Boy, things have been crazy the past few days. Not just with getting contracts signed and reading the handbook and designing, designing, designing but the weather! It is so unusual for Western Washington to be this cold. No school on Monday and Tuesday and more snow on the way. Crazy!
I finally got everything approved for my class and got my contributions in to the Mentoring leader. Wow, like I said crazy time. Getting everything ready to send to her. The hardest part was to get my links to work! Then finding out it was something stupid like forgetting to put .zip at the end of my link!!! Ugh!!!
Everything seems to be going good around the house. The only difficult thing is having John Paul home and trying to take care of him and design too. I am working on Getting my Chocolate Silk kit ready to put into the store. That way after our debut I will be able to get it right in the store so at least I have something in there. I will be disabling the link here for my mini kit and that will be going in the store. I also have a paper add-on and an element add-on that I am working on. I then will be getting a StiKit Kit ready to put in the store also. I am also working on a kit called Bearly Valentines Day. That will hopefully be coming out soon after the Chocolate Silk Set. I also am working on a Spring Kit called Bette's Butterflies in memory of my Sisters Mother in Law. It is coming along beautifully and is going to have tons of butterflies all over. I am hoping to put at least one butterfly in every kit I do as a rememberance to her. She was one of the most patient, Compassionate women I know.
I do have a layout share for today.
Here is a layout of me opening presents on Christmas Day 2007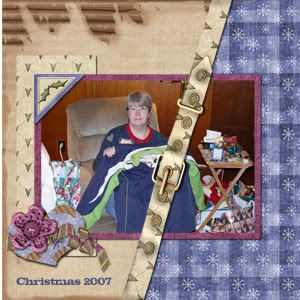 I had a great time this past Christmas. I got so many goodies for my computer. It was amazing. I also got a new Lumapix Camera which takes the most awesome pictures. This picture was taken with that camera.
Here is a layout of my son John Paul. This is when he was 7 years old. He is now 1 going on 19.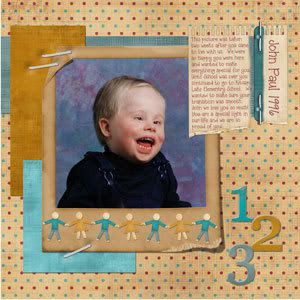 Both of these layout are done with kits from Linda Cumberland. The top on is Whimsical Christmas Paper Pack and Element Pack and the bottom one is a stickit from Lindas Back to School kit. You can find them both at The Scrapping Garden,
http://www.scrappinggarden.com/
Well, I have bent your ears long enough today. I plan on having a Friday Freebie this Friday. One from my new Valentines Kit. Hopefully it will wet your appetite for more.
See you on Friday!!