Tonight I have a layout to share with you that I made for the Blueprint in my Garden Challenge at The Scrapping Garden.
http://www.scrappinggarden.com/
I used a kit that I was working on. I have named it Celtic Dreams. It is a fun kit to work on and I am learning alot from it. I now have another Designer who is sharing her wisdom with me to help me learn better design principles. Her Name is Marsha and she is known as Froggypond on the forum. Make sure to check out her store too after you get finished looking at mine! lol :) Anyway here is the layout.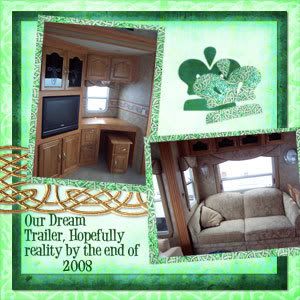 This is a couple of pictures of our Dream Trailer. We hopefully will live in this Trailer. As soon as my DH retires we will be on the road. We will be getting a fireplace where the cabinet is under the TV. John will also have his own bed. We are so excited. I cant believe this is something that can be possible for us. We will need to get a new truck also so that we have a truck that can pull this large of a trailer.
Well, what do you think about the kit? Do you like the colors and the gold border? What are some things you would like to see in the kit? I have tons of Irish Blood in me. I think that is where I get my short temper from. Also, when I was younger I had strawberry blonde hair. Red hair does run heavily in our family. I tease about having Irish and Scottish blood which I do. Well the story is that Scottish and Irish people have never been very fond of each other. I tell people that is why I have so much conflict going on inside of my head! lol I have enjoyed putting this kit together. I still have a lot more work to do although I do not think it will be much longer before it is ready.
John did not have too good of a day today. I hope he isnt getting sick again. Although he is cutting four molars right now also. He isnt wanting to eat which makes me think his teeth are hurting him. Poor guy if it isnt one thing it is another. I will be calling the dentist tomorrow to try to get an appt as soon as possible. His fever is still normal. I just think it is his teeth. Dean is desperately worried about him again. I hope tomorrow will be better for him.
I will write to you tomorrow. Hope you had a nice holiday!