I had so much problems posting on my blog yesterday that I gave up!! I dont know what the problem was but things kept deleting themseleves and I couldnt believe it. I wanted to through my puter against the wall. When I get to that point I have to stop, take a deep breath and stop what I am trying to do. It is not the end of the world. So you will receive the freebie that you would have gotten yesterday.
Here is a wonderful QP that I made with a collab kit that I did with Marsha for our monthly chat challenge we have. It was sad because no one ended up posting any layouts so these QP's went to waste. So I decided to go ahead and give them away on my blog. Here is the preview of that QP.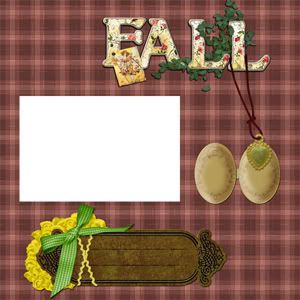 Here is the link to pick it up at. This is a personal use only QP and not shareable. If you think a friend will like it then send them here to get it. Thank you in advance to adhering to this request.
www.scrappinggarden.com/april/als_fallflourish_postingbonus02.zip
Please leave me some love if you like the QP I miss getting messages and comments on my blog. :( Dont you feel sorry for me hehehe.
The award at the top of this post was something special I received. It was back in July from my wonderful friend Linda Cumberland. Her blog addy is as follows:
http://www.linda-scrappingcorner.blogspot.com/
I was sick most of the end of the summer so I did not see it until recently. I am posting it here for you to enjoy. I am excited I was given this award by her.
Here are the rules for the passing on:

1. The winner can put the logo on her blog.
2. Link the person you received your award from.
3. Nominate at least 7 other blogs.
4. Put links of those blogs on yours.
5. Leave a message on the blogs of the girls you've nominated
Here are my seven people in no particular order!
I know you will enjoy their blogs as much as I have. They are such fun places to visit!!
Well, that is it for today. Enjoy the freebie and check back tommorrow because you never know when there will be another!!!