I am starting to feel a little bette now. I have had a couple of weeks of headaches and upset stomaches on and off. It makes it rough to do anything Creative. I know some of it is being out of one of my medicines. It has just about taken the Titanic Sinking to get it re-filled. I dont know who dropped the ball my Pharmacy or the Drs office. At a certain point you dont care anymore you just want your medicine.
Speaking of medicine John Paul is going through a rough patch of not wanting to take his medicine. It has caused some major upset in our family. I hope it is just a phase he is going through. Some of his medicine will land him in the hospital if he doesnt take it. On the other hand he is 18 years old and the law says I cant force him to take it so it can get pretty frustrating around our house in the mornings and evenings.
On to a better note I got some great pictures this weekend and am looking forward to doing some more digiscrapping. I also need to get some work done on my sisters vacation album both paper and digi. She has so many pictures I am doing both. It has been so much fun putting both these albums together for her. I also have been thinking about my Christmas Cards and other various Christmas projects I need to finish. It can be depressing if I dwell on it too long. It just seems as though I am never going to get them done in time. Wow, Im on a real bummer today. All negative. I probably should just stop. Dont want to get you all negative.
One good thing is my son emailed me last nite and told me he got orders to San Diego which means he will be very close to the rest of the family and a lot closer to home. I hope this means that we will see him more often. Especially my parents. They miss him so much. My sisters kids and him are pretty close in age so hopefully he will spend some time with them also.
Well, as they say if you dont have anything else good to say then go away!! LOL I will post a few more layouts and then be done for today.
Here is a layout of John Paul and our dog Pierre. I happened to be riding in the back seat trying to get a snooze and caught these cute pictures of the two of them over the front seat: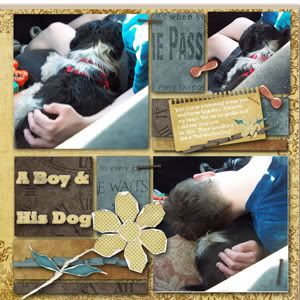 There is nothing like a boy and his dog!
In the above layout I used Linda Cumberlands About
a man kit. I love that kit so much! It is very versitile
You can get it here:
http://scrappinggarden.com/store/index.php?main_page=product_info&products_id=1201
Here is another layout with John Paul in it. This one has a cute story behind it. He was out in the backyard swimming in his pool. Dad stepped in the house really quick to get the camera
and in the meantime JP thought the dirt looked more fun. I laugh every time I see these photos! I keep scrapping them over and over because they are so great! John Paul had a blast until Dad had to hose him down and then he did not think the cold water was any fun!
I love all of the depth in this layout. It almost looks like a shadow box. I used Beth Kern's Mini Kit My Boy. You can find it here:
http://www.oneofakindscrapz.com/store/product.php?productid=17481&cat=0&page=3
Keep coming back to check I should have another freebie to offer you by the end of the week.
Thanks so much for stopping by!