Well, decided to take a break from doing some of my Creative Team work today and blog for awhile. Today is the day that I send out urls to all of my designers that I work for. It can really be a job and a half if I have done a lot of work for them over the week.
I told you late last nite that I would tell you why my DH has been home for a few days off of work. He teaches High School and in the District he works for they found icolli bacteria in the community water. Those poor people were without water for three days before they could get the systems purged and the bacteria out of the system. I bet it was so hard for them to have to boil their water just so they could cook or wash up. Anyway they called school for Thursday and Friday so my husband was home from work. It was great because we normally do not get time together alone very often at all. That is one of the down sides of having a disabled child. We relish every minute alone we get. Even though we were out running errands it still was wonderful to be unencumbered.
I wish it were possible for me to take a small break. It just seems like I get caught up with my CT work I take a big breath and cross my fingers for a couple of days and another landslide comes crashing down. Whew! I keep trying to take a few tutorials here and there on my new CS3 program and designing a little. Sometimes it takes staying up really late at night. I get my best work done either then or when the house is quiet during the day. I am glad that I did not take on more that 3 CT's I would have never been able to handle more that that with my schedule and the demands of taking care of John.
On a lighter note I wanted to share a couple of layout with you. One is called Seventy Something. It is a picture of my Mom and Dad taken in the seventies sometime. I used Lynn Cumberland's Stickit from About a Man. You can find her About A Man Kit at The Scrapping Garden.
http://scrappinggarden.com/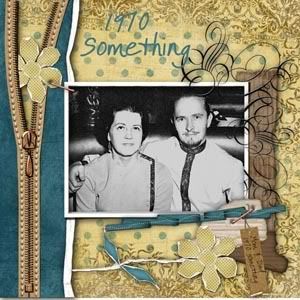 Now that I have started doing digital Scrapbooking I have taken alot of the photos that I have of family in frames and started scanning them and scrapping them. This is one of them.
My parents met taking ballroom dancing classes so my parents used to go dancing alot.
This is a layout of my husband's Nieces baby Maddie. She is so beautiful. You just cant stop looking at her.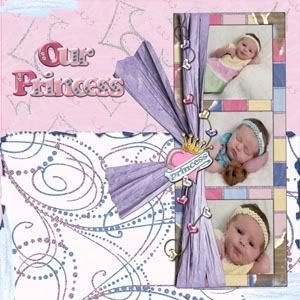 I used Beth Kern's My Princess Kit to compose this layout. You can get it at
http://Oneofakindscrapz.com
When my husbands family came over from Arizona to visit for awhile we were able to spend a whole day with his family. The baby is so beautiful and is sooo good. She is going to be so spoiled with all of the women dooting on her. I told her dad that he better buy a shot gun and learn how to use it and polish it when the guys start coming around because I think they will be coming in droves!!
If you scroll down to last nites post there is a stickit freebie there. Grab it while the link is still working.