John Paul is steadily getting better. He is worn out coming back home after school but a 15 minute nap and he is re-charged and rearin' to go. His tooth problem was luckily only swollen gums from incoming teeth. He is getting 12 yr molars. It is normal for downs kids to get teeth late and sometimes not get a lot of permanent teeth at all. I seem to be plagued with a migrane cluster headache. You know, one of those that never totally goes away. Then it explodes into a star studded pain. It has been going on for a week now. I am trying not to take anything for them but it seems that I end up doing it anyway. I guess that is why I have had it for so long. I get re-bound headaches from taking anything for my headache. I just cant handle the pain especially when I throw up because of it.
All else is going good. I went into Silverdale this week to get my IRS receipt for how much I paid in on my business taxes. Next year will be worse because it is a whole year. I get paid for being JP's caregiver since he is over 18 years old. I get paid fairly well I might add. The only complaint is that it puts us in a higher tax bracket and I have to pay quarterly taxes. YUCK!! At least it pretty much insures we will get something in return. Our tax return ususally pays for our summer activities. I know I am going to want to go see my family a few times this next year with my dad losing his memory I want to enjoy him now while I can.
I also went by Michaels I finally broke down and got myself a Crop a dial. I cant believe I waited so long to purchase one. I was afraid I wasnt going to be able to use it because of my wrist problem. Wow, This was so easy to use. I am so glad I got it. I recommend it to anyone who is still paper scrapping or doing altered art or hybrid scrapping. It make punching holes and setting eyelets a breeze. I have two other eyelet setters I do not know what to do with now. I dont think my mother would be able to use either one. I dont know of anyone else who scrapbooks or would need an eyelet setter. Maybe I will call Carol. Maybe there is someone in her group who could use it.
I am so excited!! Marsha aka Froggypond and I have our first Chat /Crop coming up!! It will be on March 4th at 7:00 PM eastern time. 4:00 pm Pacific Time. 3:00 for Alaska Time. It is an Element Challenge. At the Crop we will introduce the element and give them out as freebies. Then we will explain the Challenge. The Challenge is to use as many of the chosen element on your layout while keeping it uncluttered and well constructed with the focus on the picture. Fun, Fun. We will be unveiling the Challenge at the Crop. I am so excited. Below is the ad that will appear in the Scrapping Garden Newsletter: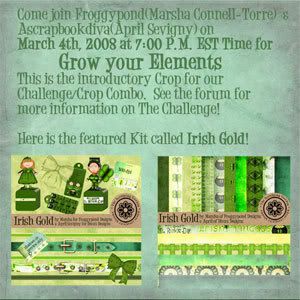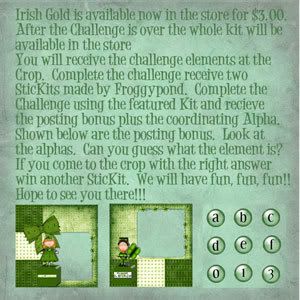 Looks like fun doesnt it? It will be I gurantee it!
Now, I have a layout share using my Chocolate Silk Kit Add-on. This kit is like a kit in itself. There are so many awesome elements and papers to make your mouth water! Here is a layout I did using this kit: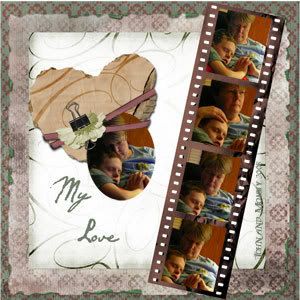 You can find the kit here:
http://scrappinggarden.com/store/index.php?main_page=product_info&products_id=1889
Make sure to read Marches Newsletter because there is a freebie in there from me!!
Hope you all have an awesome evening and make sure to pop back in on Friday for the Friday Freebie!!