It has been a whole week since I blogged here. I am sorry to those who checked my blog and I wasnt here. I hope you mosied on over to The Scrapping Garden Blog to catch me there. I got used to writing every day so I hope I can keep that up here.
I just added another kit to the store. It will be in the Store on Tuesday just in time for Valentines Day. It is Called Victorian Collage. It is an element kit of collaged hearts perfect for your Valentine Cards or Packages. It also can be the perfect topping for your layout when wondering what else that Valentine Layout Needs.
Here is the preview.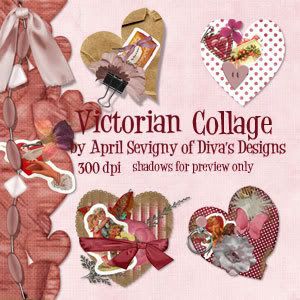 you will be able to find it in my store on Tuesday for $2.99 Such a great price for these beautiful elements. I used some of the papers from my Bearly Valentines Day Kit so if you purchased that kit this element kit would make the perfect companion.
I also wanted to extend the time on my Bearly Valentines Day Kit Sample I had on my blog. So you can grab it here for the next 48 hours and then it will be gone.
http://www.scrappinggarden.com/april/als_BearlyValDay_sample.zip
John is still running a low grade temprature. I cant believe it. It seems to me the fever should have abated by now. I am almost tempted to take him back in if he isnt better by tomorrow. I have never seen the flu act like this before. Usually the temp. lasts for a few days and then is over with. I have been giving him pudding and popsicles and yougurt. He seems to have a very bad cough. I am afraid that he may have Pnemonia now. I think I will take him in tomorrow. It surely will make me feel better anyway.
Not much else is happening in the Sevigny family today so I guess I will sign off for now and write again tomorrow. Remember that Friday is normal Freebie Day so definitely make sure to check back then. And you just might find a surprise here on Valentines Day Too!!
Please feel free to leave me a comment. It is nice to hear from you and I really love the support it gives me.
Also, Shelia I hope you check my blog. You said you might be interested in being my CT. You did not leave a way for me to contact you. I think I could use at least one CT right now. I can send you an application and then we can talk some more about it. I have to give permisson for your post to be published and I promise if you leave your email I will not publish it. Thanks so much!
Thanks for stopping by!