It is so nice to be back on my own blog. While I like blogging on The Scrapping Garden's Blog once in a while it is just so good to be home!! I had a pretty interesting weekend considering that Dean worked all day on Saturday and then was gone doing personal stuff all day on Sunday.
Saturday Morning John Paul and I went out to Breakfast. We always do that when Dean works. It gives him and I something to do together and he really does love going to Breakfast the most. The great thing for him was that Dean called after he got off work and wanted to meet us at the same resturant that I took John out for Breakfast. They serve Breakfast 24 hours a day so John got two Breakfasts!! He was so happy!! It would be nice if everyone was so easy to please!! Then when Dean was finished with his errands on Sunday we met him in Tacoma at Applebee's for Dinner. Whenever we go there I always get a half salad so I have room for dessert. I got the flowing Chocolate Cake with icecream. OMG it was so rich. I got to the last two bites and couldnt eat anymore. I was starting to get nauseated. I should have ordered coffee with it. I will know for next time. It was worth it though. So good. Soooo... Chocolatey(if that isnt a word I just now invented it!! LOL)
My Nephew's wife called me this morning which was a wonderful surprise!! I havent heard from them in so long! They had been homeschooling the boys which was totally not working. Well this year they decided to put the boys back into school. I am so happy. One answered prayer. Their youngest son is ADHD. They had not been medicating him. Just trying to take care of it naturally. Well, that didnt work so they finally got him put on Adderall!! Another answered prayer!! Their youngest child which is a girl. Her name is Mira is walking and talking. She is very, very intelligent. She is the cutest thing too. I will share a layout with her in it!!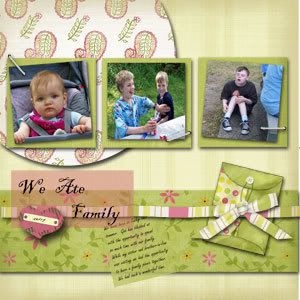 This is a layout using Linda Cumberland's Kit called "Madeline" Before I started Designing I used to be a CT for Linda. Mira is on the far left. My Nephew's boys are in the Middle and John Paul is on the far right. These pictures were taken this last summer when my sister "My nephew's mother", came to visit us. I hadnt been doing layouts very long when I did this one so I know the drop shadows are a little higher than they should be.
I wanted to remind everyone that my Celtic Dreams Kit is in the store now. It will be on Sale until the 11th of March. Then it will go to regular price. Here are the previews of that kit: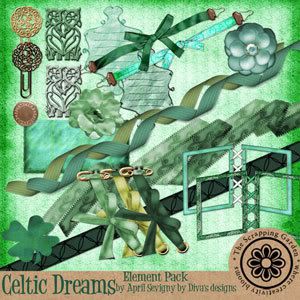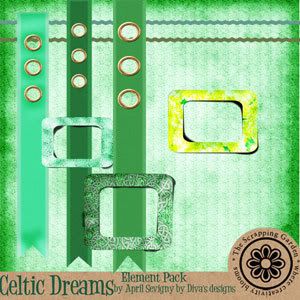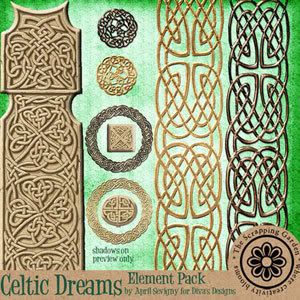 Paper Pack: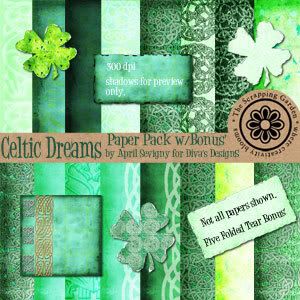 This kit is a more traditional kit and the paper pack has five bonus' in it. It was a fun kit to do and I learned a lot while I was doing it. I hope you all have a great day and I will be back for more blogging at least on Wednesday. I will try to make it tomorrow but I know I will make it for sure on Wednesday!
Have a wonderful Day,
{{{Hugs}}}