Boy do I ever have a lot to catch up on!! The Doctor has changed my medication and I am already feeling so much better! It has given me a lot more energy and the pain is totally gone. I am still taking the Methadone but am wheening off of it and I will know exactly what the meds are capable of as soon as I am totally off of that.
What I have been able to do though is some designing. I have a lot of new things to share with you and hopefully I will have time tommorrow to completely share it all with you as well as give you another freebie. Chantal has been busy with more Quick Pages for you and you know how talented she is. I also have a freebie up my sleeve for you myself. So hopefully I will continue to have the good energy to follow through with what I have planned.
Anyway, I have my first Commercial Use Grab Bag. It is called This & That because that is exactly what it is. A bunch of This and That. I had a fun time making it and so far it seems to be a hit. Here is the preview: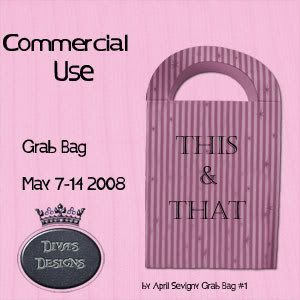 It is on sale for $3.00 until Midnight on May 14th which then it will be revealed. Some of it will go into a This & That kit but not all of it so it is best you not wait so you can take advantage of this great deal. You can find it here:
http://www.scrappinggarden.com/shop/product.php?productid=16834&cat=0&page=2
The next item on the agenda is the Bette's Butterflies. It is a promotional kit. It has been extremely popular. If you spend $10.00 in the store not just my store but $10.00 in the whole site you will get this cute kit automatically in you cart. This kit was made in rememberence of my Sister's Mother - in - Law. Her name was Bette. She loved Butterflies and had a huge collection of them. She was the most sweetest lady I know. She had a lot of bad behavior to deal with from her husband and her only daughter, she was a queen through it all. I never heard her speak a cross word or purposefully be mean or spiteful to anyone. I looked up to her and was always considered part of the family. So heres to you Bette. This is my tribute to you!!: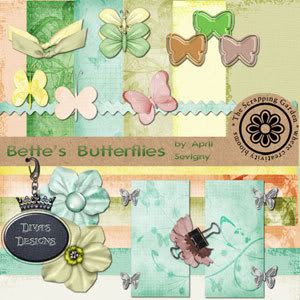 Tuesday of this week at 7:00PM Eastern time Marsha and I had our usual Grow Your Element Challenge Crop/Chat. No one showed up. :( We were very sad about it but it gave us both a chance to catch up and plan some more fun things for our up coming challenges. Anyway we decided to try it again so this coming Tuesday May 13th at 7:00 PM Eastern Time we will try it again. We hope to see you all there as we really missed getting to chat with each one of you. This months kit is called A MOTHER'S TOUCH. This kit is more to the elegent side of things and has some fun elements and papers. It is on sale for $3.00! We hope you will enjoy it as much as we do. How the challenge works is you come to our chat and get the elements from the challenge. They all match the featured kit named above. Then you you use the elements as much as you can without taking away from the balance or construction of you layout. We want the focus to stay where it belongs, your picture. Here are the previews of the kit: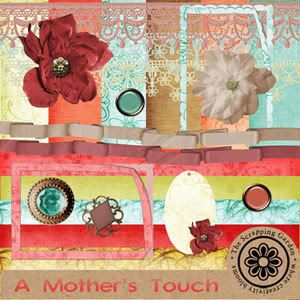 You can find it here:
http://www.scrappinggarden.com/shop/product.php?roductid=16821&cat=0&page=1
We hope to see you at the crop!!
I guess that is enough information for today. I hope you all have a wonderful evening and come back tomorrow as I hope I will have a goodie or two for you!!
Happy Scrapping