I have made a few resolutions for 2009!! Nothing too big just a few goals. I want to be more involoved with The Scrapping Garden and get some more layouts finished. I have been paying a little more attention to my photography and have had a great time in the process. This month I am starting Cake Decorating Classes which I hope will prove to be fun. I am excited for the prospects of the new year! I am praying for improved health this year as last year was not too good of a year. I am now on a medication that I really pray will help me and not cause problems like the Lyrica did.
Anyways, enough of that. I am sure you are more interested in what I have planned for you my clients this year. I am starting a newsletter. If you are interested please leave me a comment with your email and I will be glad to add you. I can easily edit your information before I publish your comment or if you prefer not publish it at all. You let me know. I am glad to comply to your wishes.
I also want to start a free dialouge with you in reference to my kits and freebies. Is there something you like or do not like. Is there something you would like to see. Let me know by a comment or above in my little message box. I want to make my kits something that you will love and use over, over, and over again. Do you like kits that have been seperated into paper packs, element packs and add-ons, Or do you prefer it all together in one kit. This is where you get to tell me what you prefer.
I do have a new kit out. It is called Christmas Time. It has something for everyone. some plain patterned paper and some paper that has been hard distressed. Vintage and modern pieces. Enough for a mini album or a whole album.
You can find it here:
http://www.scrappinggarden.com/shop/product.php?productid=17903&cat=0&page=1
It is $3.75 I know you will get a lot of use out of it.
I made a QP for you using my Christmas Time kit and a few pieces from my Victorian Christmas Add-on. I hope you enjoy it. And lets have an awesome new year! There is so much new thing coming up in the new year at the Scrapping Garden. make sure you come by and check out the challenge fourm and find out. I will be blogging more about them and posting about them as they go along.
Well, I am sure you want your freebie now. lol
First is a layout I made with them.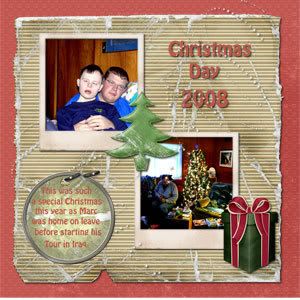 Here is the link:
www.scrappinggarden.com/april/als_ChristmastimeQP.zip
Enjoy and please leave a comment and join my newsletter and put a suggestion for a kit or what you would like to see. What you like about and dont like about my kits. Please be honest. I want to continue to grow and get better as this year progresses.