I am participating in a Blog Train. It does not offically start until April 4th so if you try any of the other links I have here they will not work until then. I am putting mine up now because yep!! You said it VACATION!!!! I am so glad to be leaving this cold, cold place called Port Orchard WA. Where am I going you ask? Hmmmm..... You guess it!!! Sunny Southern CA where the temp has and I pray will remain about 70 degrees my whole stay!!!! It is still in the 30's here. Maybe up to 50 if we are lucky!! I will be gone for one week. During Easter Break for my DH and my DS. They get each other for one week and I get sun!!! I will be staying with my parents in the Back Country so I will not be by the ocean but that is okay. My skin doesnt much like too much sun! I am blonde and fair skinned. Probably the fairest you could imagine!!!

I decided for the Blog Train I would give away my Paper Pack for April's Rainbow. The swatch was almost an exact match for this kit I made. Lucky huh?
Here is a photo of it. The links will be under that. Then scroll down just a bit further. I have some fun important news for you!!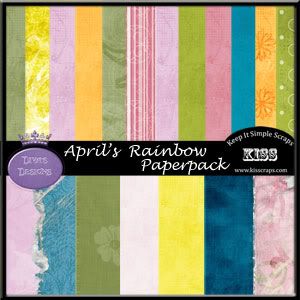 Here are the links: www.kisscraps.com/april/als_aprilsrainbow_part02.zip
www.kisscraps.com/april/als_aprilsrainbow_part01.zip


Okay, now the great important news!! My new store will be opening on April 1, 2008!! It is at www.kisscraps.com Keep It Simple Scraps. I am so excited for this opening. I have never been at the birth of a new business before so this is sooooo exciting for me!!! What I would like to tell you is that the Element Pack that goes with this Paperpack will be available at my new store. So when you pick this portion of the blog train dont forget to visit my store at www.kisscraps.com. I cant link you up to it because it is not open as of this writing!! Here is a preview of that Element Pack.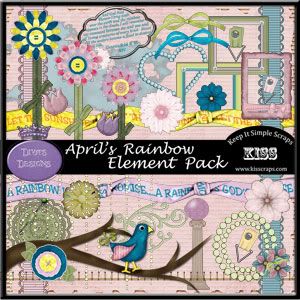 This is one of my most favorite kits I have done so far. I so think it is worth the money I am asking also. There are so many things you can do with this kit. Easter, Little Girls or Big Girls pages, Spring, Summer, Mother's Day, Even a Wedding could be done with this kit. There is definitely enough here to do a great album or a book. The sky is the limit.

Okay now what you have been waiting for the links to the rest of the Blog Train. Please remember to leave a little love. Everyone has worked hard on their portions and definitely has been generous to offer it to you for free. Have fun and enjoy the rest of the Blog Train!!


I am so hoping that everyone listed here was able to finish their contributions. Since I will be in CA I will not get the final list to share with you. If someone did not finish or had something come up I am sorry in advance to leading you astray. Please enjoy and please remember to leave a little love!!
God Bless you all!!! Please remember to pray for the leaders of our country. Whether you agree with them or not they all still need our prays right now. To make the right decisions that God would have them make to straighten out this mess we are in!! I will post again in about 1 week. By all and Happy Scrapping!!!