Well, as promised I have a couple of layouts to share with you. They are both using Linda Cumberland's new Country Harvest Kit.
This one is one of my favorites of all of the digital Layouts I have done.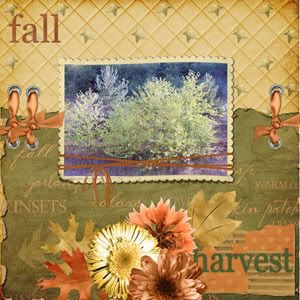 I hope you like this one as much as I do. I am thinking about entering it into a contest. Leave me a comment and let me know if you think I should.
Here is my second layout that I did using this same kit. I wanted to do something so it would show off the pictures of the leaves that I took.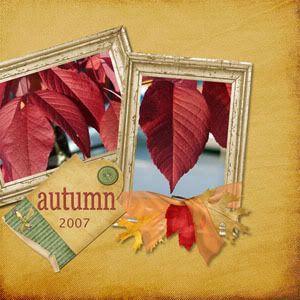 You are not going to believe it when I tell you that I took these pictures in the Wal-Mart parking lot in Bremerton Washington. I am sure that everyone thought that I was crazy jumping out of my truck to snap the pictures. I did see a few people staring. LOL I wish they could see what the end product was. These pictures were the best out of everything that I took.
I have been thinking about my son Marc a lot lately. For some reason I am worried about him. I usually do not worry so I am very concerned as you can imagine. It is really hard when they grow up and leave home. They are adults, you have no say anymore. You have to let go. I guess this is when the real worrying begins! I havent heard his voice in over a month. I worry about whether he is okay or not. He is in the Navy and is on a ship out on a good will cruise. I dont know where he is or what he is doing. I love him so much and only want the best for him. I worry that he is engaging in behavior that can be life changing. I am sure you are wondering what but since this is a public blog I cannot say. All I can say is that my husband and I know how devestating this can be because we both have had this problem in out pasts. I worry, worry, worry. Knowing that the only thing I can do is pray, pray, pray. I do not have the power over him to make him do what I want. I guess I never did. Only was a leveler of consiquences (sp?)
Well, as to the weather there is no rain today although it looks rather gloomy outside. It could start raining any time. Well I guess I have bent your ears enough for today so I will post again tomorrow.
Make sure you check back because tommorrow I am going to have a freebie for you from my first mini kit Heart Bursts!