Today is the day. I got my mini kit all uploaded to 4shared so I will have the links below.
My mini Kit is called Chocolate Silk! I called it that because I used a texture that I felt looked like raw silk and the colors from the challenge looked mostly like chocolate to me there fore Chocolate Silk. I am hoping to continue working on this and eventually make it a full kit so when I finish the Mentoring Program I will have a kit ready. I also am going to try to have at least one kind of Freebie on my Blog once a week. That way you will come back to see me and see what is going on here.
I am still under construction and would like to to come back and check often to see what else is new and different here on my blog.
Another thing I would like to do in the future is to have small challenges here so I can also give you some fun freebies.
Also, my dear friend Linda Cumberland also is a designer at The Scrapping Garden has wonderful kits and this month has a huge, huge, sale going on. Once in a while you will see me advertise her kits or offer a stickit from one of her kits from time to time. Please be sure to check out her store this month because she has some awesome kits at rock bottom prices. Even her Christmas Kits. Those definitely you shouldnt pass up. Well now on to the good stuff.
Here is my mini kit: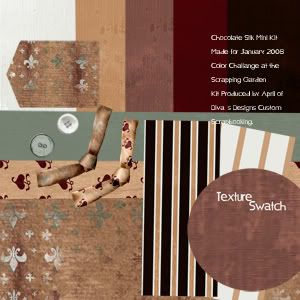 Chocolate Silk Part one:
http://www.4shared.com/file/34177916/30383972/Chocolate_Silk_Mini_Kit_Jan_2008_Part_1.html
Chocolate Silk Part Two:
http://www.4shared.com/file/34178597/de9f6ade/Chocolate_Silk_Mini_Kit_2008_Part_2.html
If you have any problems with these please let me know. You can email me any time at
Ascrapbookdiva@hotmail.com
Thanks for looking and I hope to have things looking better soon!
TTFN!