I am humbled. So much am I humbled and hope that I will continue to be humble. God has a way of humbling us just like we humble our own children!! I am continually grateful to him!! I praise him above all else. Yes, I even drop to my knees and praise him with my face on the floor, my love is so great!! All else has been stripped from me. It takes what it takes to get us to this point. Why as humans do we continually think we can navigate our lives without him? I have crashed countless times and return to him scrapped bruised and broken.
Life is so precious and I am so grateful for my family. We and our animals which make up our family are so fragile. Thursday night our dog Pierre, which we rescued from someone who was neglecting him terribly and I believe abused him horribly, was hit by a car on last Thursday night. The people did not even stop. Our dog was a small dog and they were going at a speed that I am sure they did not even recognize that they had hit anything significant. It reminded me very strongly that our cars are dangerous things that can cause great harm if we misuse them or are preoccupied while we are driving!! I implore everyone who drives to keep to the speed limit. Even if you are running late please pay attention. It may be one of your own love ones that may suffer because of your inattention. Yes, the shock has worn off and my heart is broken. I have cried a lot today and feel tired and worn out. This was the last straw of many hard things that have happened to me in the last month to six weeks. Yesterday at Church God blessed me so much and began to fill my heart with hope and love. I am beginning to not just see his presence but fill it ever slightly. All this time I know that he hasnt left me he was teaching me. Teaching me to trust him. I am still learning and most likely have to turn it all over to him many more times in my life. I do know that something big will happen out all of what he is teaching me right now. I just need to hang on and I am hanging on. Hanging on for dear life and will not let go!!
Here is a layout I did last night using my Grandma's House kit to make a memorial layout for my dog Pierre. I am thinking about having a 12 X 12 made and framing it for our family to hang up so he will always be a part of us. I miss him so. I know he is in a better place with no more suffering. He was suffering so with his skin which was not resolving and the DR. doubted that it would. He was old. Most of his life spent in great sorrow. I hope and pray we were able to lift that somewhat for him.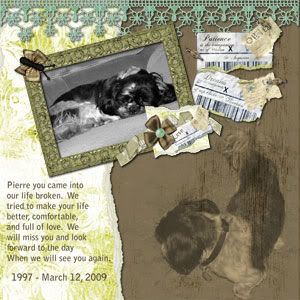 I am so grateful that I know without a shadow of a doubt that we will one day be re-united in heaven. What an awesome God we have. Awesome isnt even a good enough word. I will miss him until thing. My sadness right now is overwhelming.
On a happier note I also made a layout with my new kit. April's Rainbow. It will be available at Keep it Simple Scraps www.kisscraps.com as soon as it opens. It is a very spring like kit with beautiful colors. I wanted to showcase a picture of Marc and John Paul. I have tried to document their relationship and how they are changing as they grow up as wonderful brothers.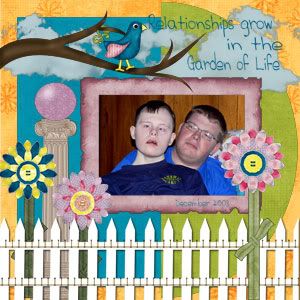 This picture was taken in December of 2008. Marc is in Iraq and is safe and sound as much as he can be over there. He is in his field of Medicine and is in charge of Sick call of about 200 or so people all together. I am so proud of him and his accomplishments at such a young age. Lots of responsibility for a 25 year old.
Thank you so much for stopping by and I am getting excited for the Grand Opening of Keep It Simple Scraps.
I also wanted to let you know that I am participating in a blog train that will be happening on April 3rd you can check back and pick up the paper pack for the above kit for free. I will be participating in Blog Trains now and then so make sure to check back here often so you dont miss out on the freebies i do decide to give away.
Hugs, Have a great Day and Happy Scrapping!!